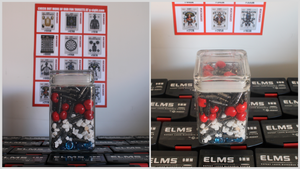 What happens when someone creates a jar filled with ELMS cartridges, marbles, balls and more? You create a contest for your insiders. 
We're giving away a G-Sight Polo and G-Sight, ELMS+ ball cap to anyone who guesses the exact number of ELMS cartridges inside the jar or gets the closest, without going over. 
Send your guesses to Andrea@g-sight.com by September 25, 2021. We'll announce the winner on Thursday, September 30, 2021!