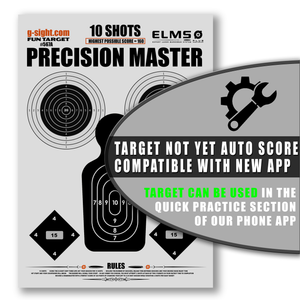 11" x 15.5" This tactical Precision Master Wall Target printed on heavy weight premium matte card stock. NOTE: This Target is not programed inside our new app.
A perfect score on this target for a 10 shot drill is 160 points. Try a 20 shot drill within the Shot Timer App and scoring a perfect 320 points to become a Grandmaster.
RULES: 10 Shots - Using the  old version  G-Sight Shot Timer App, set your session for 10 shots – Include the number of sessions, reload time between sessions and your desired make ready time – Hit start and your countdown will begin – The buzzer will signal your start – In any order you choose, you must attempt 2 shots at each of the 5 targets in your fastest time to completion.